Our top most priority at Haven Fitness is to provide a safe environment and experience for your movement routine. The following details outline our approach in keeping our community protected, healthy and happy.
*The RIDOH COVID-19 Recovery Guidelines are rapidly evolving. This is our plan as of May 3, 2021, which we expect to revise as new information becomes available. Check back here often as plans, procedures and policies may change.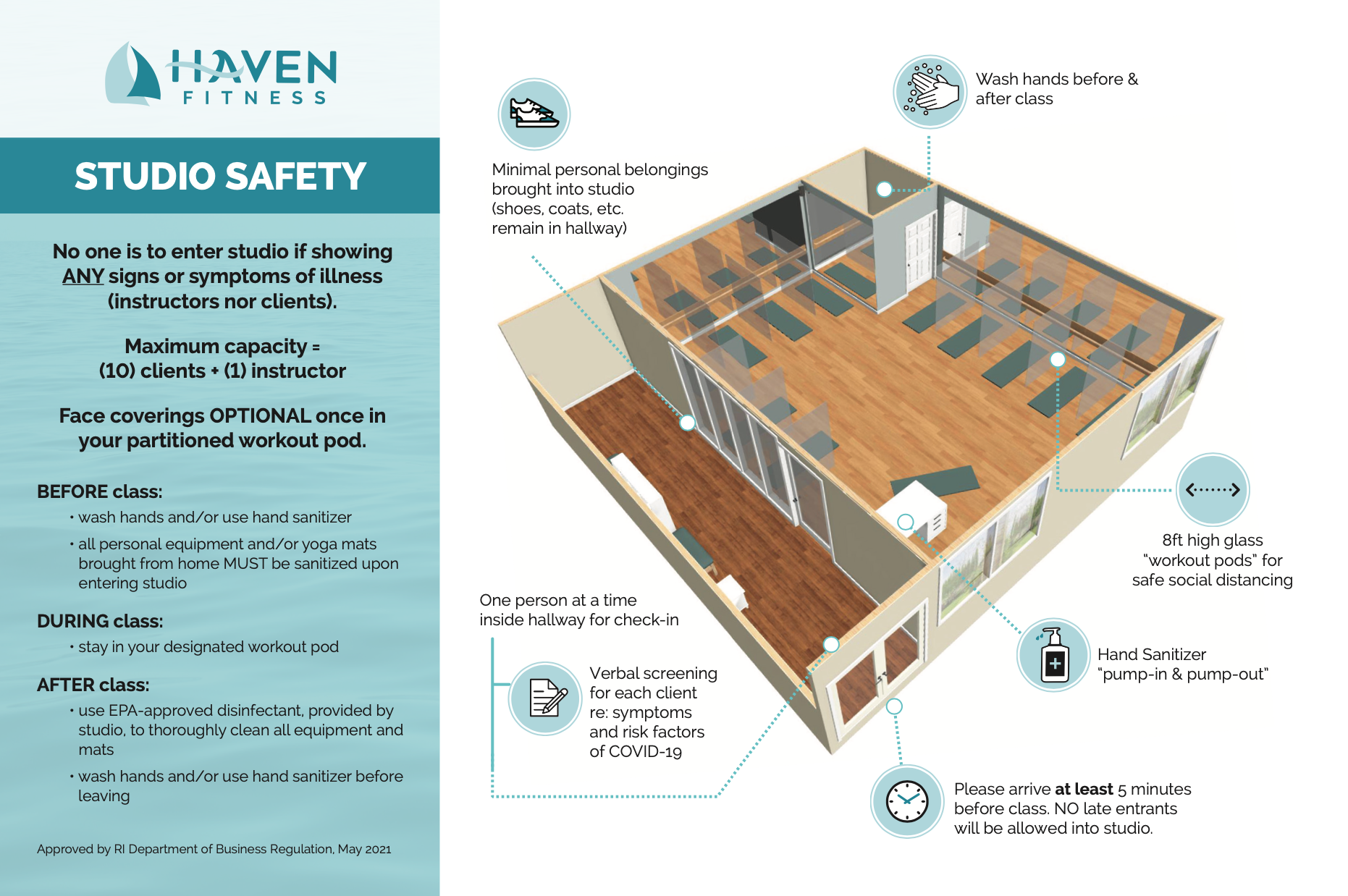 BOOKING:
Workout in your own Haven "pod"! Approved by RI's Department of Business Regulation, 8ft tall glass "workout pods" have been installed providing greater social distancing precautions.
Class capacity will be set at a maximum of (10) clients + (1) instructor.
Registration for all in-studio (and outdoor) classes closes 30 MINUTES before the start of class. Pre-register using the MINDBODY app or via our website. Registration for livestream classes closes 5 minutes before the start of class.
Walk-ins will not be accepted per RIDOH guidelines.
You may cancel yourself from class up to 3 hours before the start time. If you cancel within 3 hours and/or no-show, one full class credit will be deducted.
NO SHOW policy: If you register for an in-studio class and do not show up, you will be charged a $10 'no show fee.'
All existing and new clients are to sign a new Liability Waiver (one-time signature). Click HERE to sign.
UPON ARRIVAL:
Please do not come to class if feeling any symptoms of illness.
NO late entrants will be allowed into studio once class has started.
Instructors are to wear face coverings at all times.
Masks are OPTIONAL for clients, once settled in your personal workout pod.
Check-in in our studio hallway (one person at a time).
Each client will be asked to verbally acknowledge the COVID-19 Health Screening Tool, provided by the RIDOH.
Arrive dressed for your workout, bathroom facilities are limited to emergencies only. *We suggest wearing grippy socks for all class styles.
Personal equipment (mat, weights, blocks, etc.) are permitted, however, they MUST be sanitized upon arrival.
Sanitize hands upon entering the studio room ("pump-in, pump-out").
Self-Care Kits will be available for purchase. Includes mini hand sanitizer, moisturizing hand serum and an aromatherapy essential oil roller.
DURING:
Instructors are required to wear face coverings at ALL times (before, during and after class).
Masks are OPTIONAL for clients, once settled in your personal workout pod.
Safe social distancing guidelines must be maintained at all times. Please stay in your designated workout pod throughout class.
Each workout pod will be equipped with hand sanitizer, paper towels and EPA-approved equipment disinfectant.
Instructors will refrain from physical hands-on assists, providing verbal support for form and modifications.

Bathroom use should be limited for emergencies only (please prioritize using hand sanitizer to limit contact with studio surfaces).
AFTER:
Use our EPA-approved disinfectant to thoroughly clean all equipment and mats.
Leave your equipment at your workout pod (our team will then clean all equipment and mats for a second time).
ADDITIONAL MEASURES:
Our full Haven team has completed thorough training on the new studio policies and safety measures.
Equipment will be used in a rotation pattern to limit exposure and avoid over-use.
We are no longer using yoga blankets or bolsters, eye pillows or topical essential oils.
All equipment and high-touch areas will be disinfected after every class in accordance with CDC guidelines.
A full deep-cleaning of the studio will be done weekly.
Daily use of (2) True HEPA Filter Air Cleaners with UV-C Sanitizers to neutralize bacteria & viruses in the air.
Our restroom is equipped with a hands free paper towel dispenser.
Our studio doors will remain propped open as much as possible to allow for increased air flow.
Haven Fitness reserves the right to change policy, procedures and cancel class at any time to remain compliant with RIDOH and CDC guidelines and/or to meet our business needs.
RESPONDING TO A POSITIVE CASE:
In an effort to help minimize the spread of this harmful virus, we will ensure the following safety measures are in place should a client and/or instructor alert us of testing positive for COVID-19.
All personal information will remain anonymous.
Immediately, all in-studio classes remaining on the schedule will be cancelled for that day to allow for a full studio deep cleaning.
Per RIDOH, the COVID-19 positive person is no longer allowed to enter or physically engage with the studio until the following:
***They have had no symptoms at all, including no fever, for at least 72 hours (that is three full days of no fever without the use of medicine that reduces fevers) AND
****At least 10 days have passed since their symptoms first appeared
All instructors that have physically engaged with the COVID-19 positive person are to quarantine for 5 days and show a negative COVID-19 test result prior to coming back to work.
We will alert all clients that have physically engaged with the COVID-19 positive person. These clients will be asked to quarantine for 5 days. Covid-19 testing will be strongly encouraged.
Thank you for your efforts in helping to maintain the safety and health of our Haven Fitness community! We truly appreciate your support!
XO, Alison & the Haven Team