Events
Stay tuned with what's going on!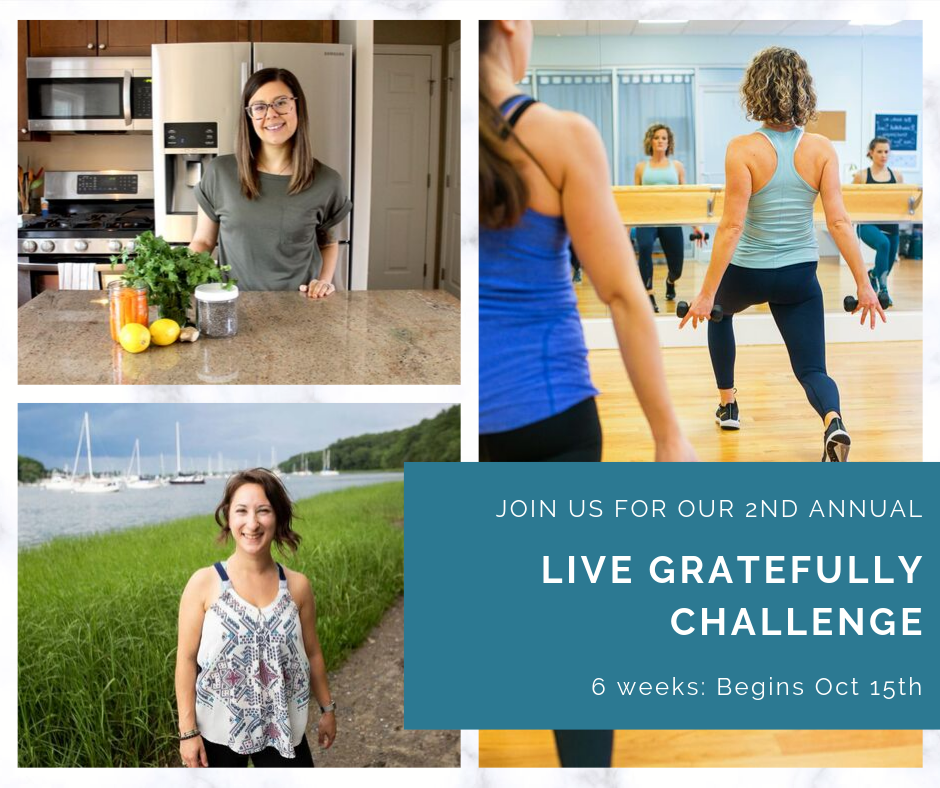 Live Gratefully Challenge
FITNESS | NUTRITION | MINDFULNESS
We're looking for the first 15 people to commit!
October 15th - Thanksgiving Day
**In-studio Kickoff Meeting is scheduled for Saturday, October 12th at 11:15am (optional)**

The Fall season can be a great time to reset and transition into a new routine, taking time to focus on small, effective changes towards a happier and healthier you!

FITNESS
With the support of your team at Haven Fitness, you will be encouraged to take (4) fitness classes per week (any style you choose: Barre, Yoga, Cardio or Mat).

NUTRITION
With the help of Certified Intuitive Eating Counselor and Holistic Nutritionist, Kristin Dovbniak (Owner of Healthy Mama Kris), you will receive weekly worksheets, recipe ideas, meal planning/meal prep support AND the opportunity for a free 60-minute private consultation.

MINDFULNESS
Included in your purchase you will receive guidance from Certified Practitioner and Reiki Master, Alyssa Knapp (Owner of Integrative Wellness RI), to learn the basics of mindfulness meditation, energy balance, gratitude practice and how to live your days less stressed.

EXTRA PERKS of PARTICIPATING
--Community support from a private Facebook group!
--One free 60-minute private consultation (via phone) with Holistic Nutritionist, Kristin Dovbniak!
--20% discount on future private Nutritional consultation packages through year end!
--Admission to TWO exclusive in-studio classes led by Alyssa Knapp, including mindfulness meditation and Reiki (with card reading)!
--One free studio class at Integrative Wellness RI (right down the road from the Haven Fitness)!
--20% discount on future private meditation, Reiki or integrative stretching sessions with Alyssa Knapp through year end!
--Complete all (24) fitness classes at Haven Fitness and be entered to win one month of classes FREE!

...PRICING OPTIONS...
1) Monthly Unlimited Members:
$120 total for the 6-weeks (does not include fitness classes)
*Monthly Autopay Members receive 10% off! Purchase in-studio to receive discount.

2) All-Inclusive Package (includes classes):
$360 total for the 6-weeks
Includes all of the above PLUS (24) classes! That's only $10 per class!

Questions? Email us! info@havenfitness.com

PURCHASE HERE!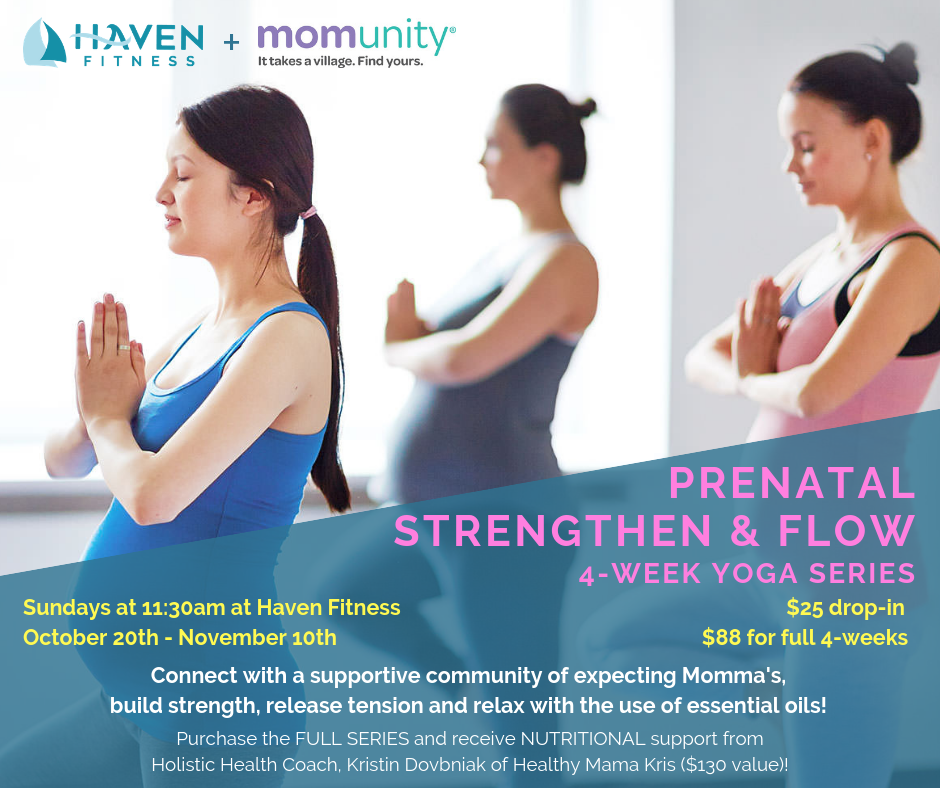 Prenatal Strengthen & Flow
4-WEEK YOGA SERIES
SUNDAYS AT 11:30AM, STARTS OCT 20TH
Haven's Prenatal Strengthen & Flow is a supportive Vinyasa style practice intended to deeply connect breath to movement. This class is specifically designed with the expecting Momma in mind by offering a safe and comfortable space to connect with others, build strength, release tension, clear the mind and relax with the use of essential oils.

FREE NUTRITIONAL SUPPORT!
Those that purchase the full 4-week series will receive weekly emails of nutritional support, guidance, tips and recipes from our partner, Kristin Dovbniak of Healthy Mama Kris! You'll also receive a 45 minute private phone consultation with Kristin to chat one-on-one about personal questions or goals to help you through your Prenatal journey (upwards of $130 in value)!

Class meets SUNDAYS at 11:30am at HAVEN FITNESS on:
October 20th
October 27th
November 3rd
November 10th

PRICING OPTIONS:
--DROP IN: $25 per class
--FULL SERIES: $100 ($20 per class)
**By purchasing the full series, you will have access to weekly Nutritional information from Healthy Mama Kris**

Questions? Don't hesitate to ask! We're here for you...info@havenfitness.com
PURCHASE HERE!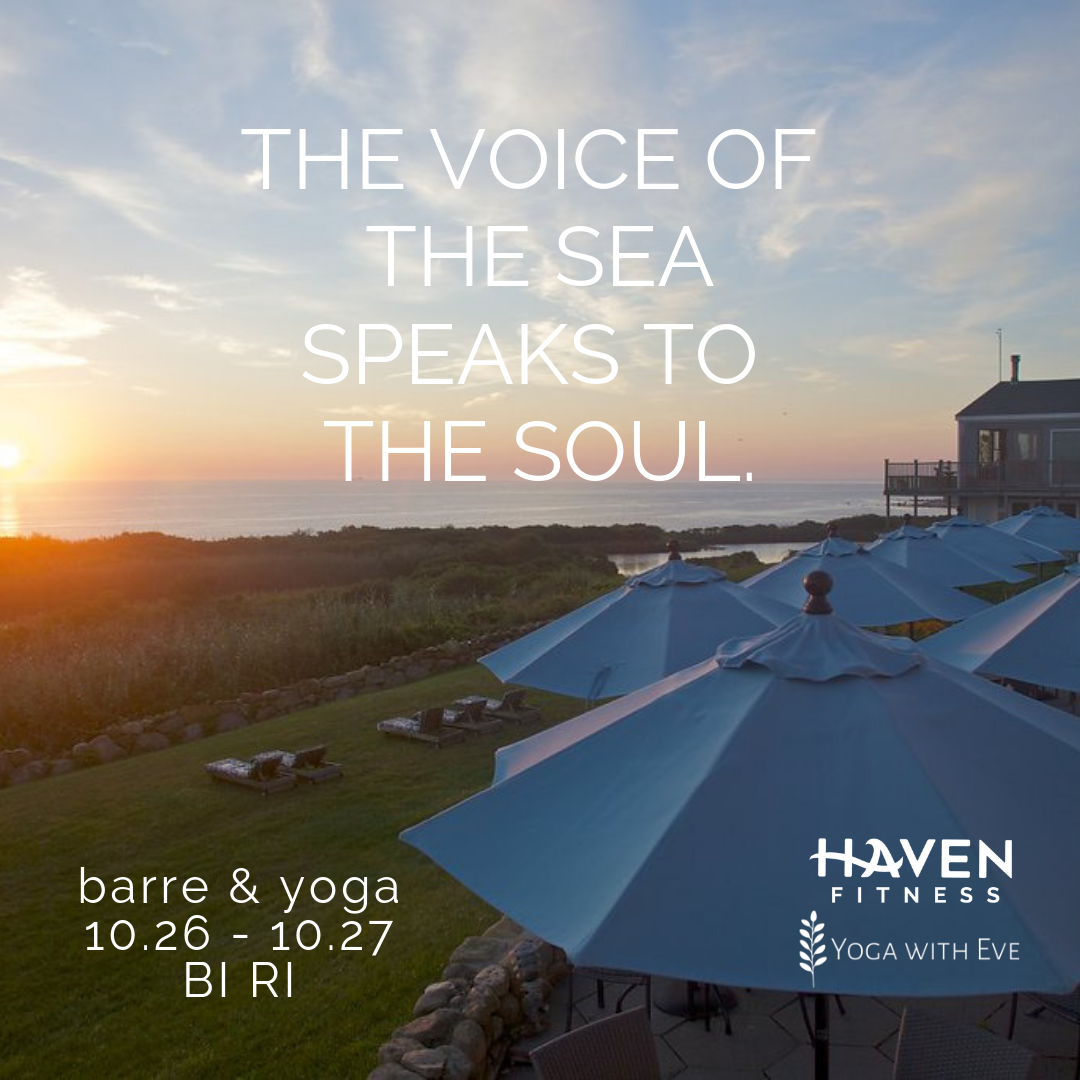 Barre + Yoga: Block Island getaway
Join experienced Barre and Yoga instructors, Alison Cavallo and Eve Carey, for a Block Island getaway full of fitness, mindfulness, good food and even better company!

Alison and Eve have curated a unique, tailored and personal experience suitable for anyone looking to escape the daily grind and treat themselves to a peaceful, quintessential island overnight.
DATES: October 26th - 27th
TIMING: 11am ferry out of Narragansett on Saturday, October 26th. 5:30pm ferry home from Block Island on October 27th.
THE INN: Enjoy premium accommodations at The 1661 Inn...this ain't camping, y'all. Most rooms are designed for two or more guests, although single rooms are available. Upgrades are also available for larger rooms, private waterfront patios, in-room fireplaces, etc.
TOTAL INVESTMENT: $475 per person (includes...)
ferry transport to and from
premium accommodations at The 1661 Inn
all meals and beverages (lunch, afternoon wine/cheese, dinner, hot breakfast, snacks and cocktails)

two barre + yoga fusion classes (1hr each)

guided seaside nature walk (optional)

guided meditation overlooking the Atlantic

weekend welcome bag

free time to explore beautiful BI RI

(...what your total cost does NOT include...parking at ferry terminal, optional bicycle rentals and free-time spending money)
Email us for more information!